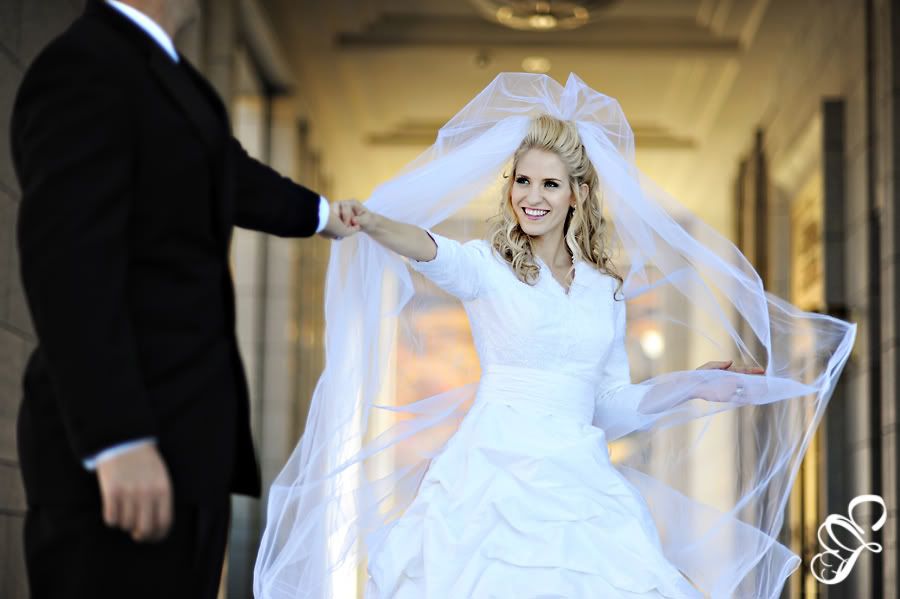 Hopefully you enjoyed Kimley's solo post enough you're excited to see how happy she gets when you add Bryce to the equation. These two will be sealed at the Draper Temple in February. So in anticipation of a frigid wedding day, we grabbed some of them together while the weather is still nice and the leaves were just right. I love how big they smile together
And I love how big I smiled when I read the kind words Enizio had to say about this session:
"When Kimley walked into our Studio, we knew she would be one of the most beautiful brides that would sit in our chair. When we finished her look, we were excited for what the photographer would deliver, but when we saw the photos, I about died! Elizabeth Taylor Frandsen- you are a force to be reckoned with! Check out the rest of Kimleys photo session here. Elizabeth named the above photo "Wings of Venus". Kimley is so gorgeous- a total Goddess for sure!!! Flavia kept it soft with a grey and pink palette which worked so well with her blue eyes and added black liner and lashes for drama. Kimley loves pompadours but wanted to keep it soft and feminine, so we pumped her up and gave her a soft curl pattern throughout the rest of her hair. Be sure to check out the rest of her session, It's magnificent!!"
What a happy team we all were.
We're doing things a bit out of the traditional order with these two, so enjoy a peak of our shoot together from this past Saturday.
I haven't even had a chance to look through all these images, but I can't wait! It's so fun trying new things and I so appreciate my clients being willing to let me mix things up a bit sometimes…